Other companies do pressure cleaning but we make the difference.
We believe in delivering a higher standard!
Sunrise Roofing & Cleaning offers South Florida with a wide variety of professional pressure cleaning services including cleaning patios, sidewalks, driveways, pool decks, pool enclosures, no pressure roof cleaning, low pressure detergent cleaning, low pressure wall cleaning, exterior painting, inside painting, paver sealing and maintenance programs. We are fully licensed and insured to handle any job, no matter the size. We have spared no expense in getting the right tools to handle any job. Your satisfaction is our top priority and we want you to know, without a doubt, that you got an unbelievable deal. Contact us today for a free estimate on any of our services.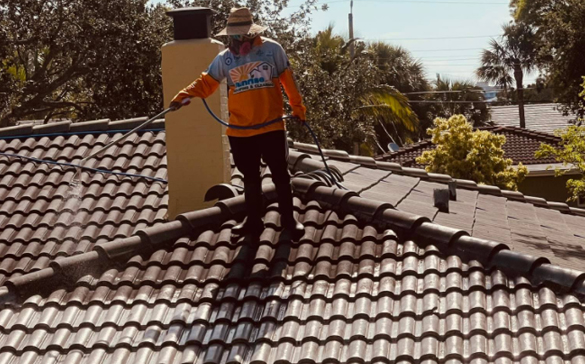 Eco-Friendly Pressure Washing
High-pressure pressure washing can damage your roof or home! Sunrise Roofing & Cleaning uses low-pressure devices and eco-friendly products, safe for your lawn, landscaping & pets! We offer some of the most competitive prices among licensed, insured and bonded competitors and back it with our 3 year roof clean warranty. You won't find a better deal!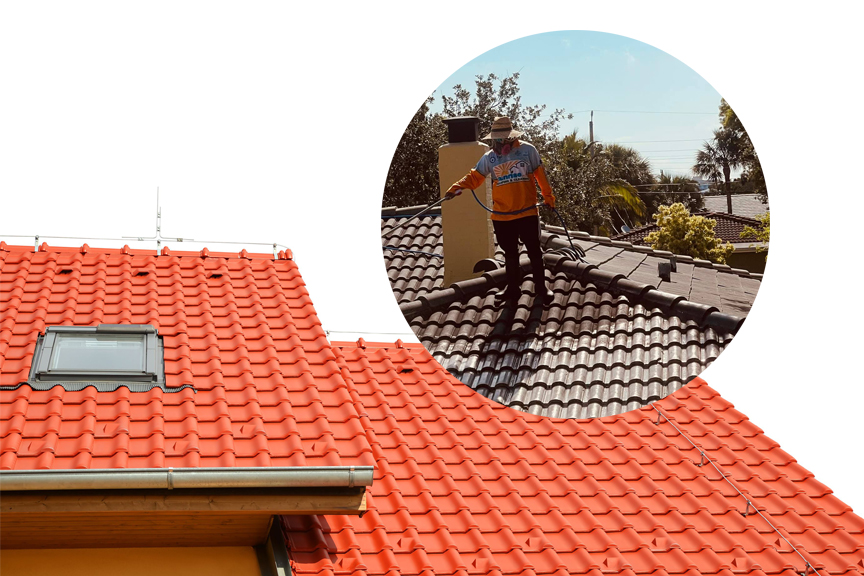 Corey Guerrera
2021-12-07
Sunrise Roofing & Cleaning was very responsive and quick to set up an appointment (even on a weekend!). The prices are fair and reasonable. They showed up on time, did a great job, and were completely professional throughout the entire experience. Would HIGHLY recommend and I will DEFINITELY be a repeat customer!
Matt is very professional and does fantastic work. He was so accommodating as we had to reschedule three times because of rain. I like that he sends you pictures of before and after. Very professional I would highly recommend him.
We bought a house sight unseen and the building inspection mentioned we needed a few minor roof repairs. When the Insurance inspected the roof they cancelled our insurance. We were in another country and got referred to Mateo. He went over within days and repaired it. He took before and after pictures and was in constant communication with me. I highly respect and recommend Sunrise Roofing and Mateo. Great job.
Reasonable Price, Great Service and Communication! Recommended!
Robert Cusumano
2021-10-27
Did a very professional job. Showed up when scheduled and finished quickly.
Justin Brenner
2021-10-26
Sunrise was prompt and responsive when I called, they gave me a fair price, and did great work for that price. They showed up when they said they would with a whole team, and they were thorough and fast. I highly recommend them.
Prompt, Arrived as promised, on time, and completed the my Pressure Cleaning job as requested. Recommended and will definitely have Sunrise Roofing & Cleaning do all my Pressure Cleaning needs from now on! Best Price in West Palm Beach!
I talked with Matt a few times about the cleaning process for my roof and home. I was concerned because I just had my roof fixed and learned how much damage regular pressure washers had done to my roof over the years. I also wanted something that was enviromentally friendly. Matt was patient and explained the process with me and the enviromentally friendly products they used and how it was applied. When they came to clean the roof but my windows and driveway too they took all kinds of care that I never expected. They covered my plants and made sure to keep water flowing on ones that were more exposed. They even cleaned the walking stones in my backyard, which was unexpected.. Everything was done with care and they took their time in cleaning everything. I am more than satisfied with their work and highly recommend them.
No Pressure Roof Cleaning
Eco-Friendly Cleaning
Gutters
Exterior Pressure washing
Pool Deck Cleaning
Window Cleaning
Window Tinting
Roof Repairs
Roof Sealing & Restoration
Driveways
Walls
Mildew Detergent Application
Rust Removal
Sidewalks
Brick Pavers Cleaning & Sealing
Patios
Low Pressure Clean Detergent Application
Screen Enclosures
Chemical Cleaning
And much more
Reach out anytime to find out more how we can help keep your property or home clean and protected from the harsh South Florida environemnt.
Parking Garages
Storefronts
Exterior Building Wash
Restaurants
Gas Stations
Community Sidewalks
Gum Removal
Dumpster Areas
HOAs
Town Homes
Private Neighborhoods
Sports Facilities
Strip Malls
Parking Facilities
Hotels & Motels
Much more!