South Florida's Premier Pool, Driveway, Patio & Deck Paver Stripping & Sealing Company.
EXPERIENCED. PROFESSIONAL. RELIABLE.
Increased curb appeal can greatly enhance the value of your home, and a brand-new driveway makeover can be the ideal attention-getter. One of the great things about brick pavers is that they can easily be restored to their pristine condition and have a profoundly transformative effect on your property. There are few if any investments that provide more value for your home improvement dollar. And of course, you get to enjoy the upgrade each and every day when you drive up to your home.
As a South Florida homeowner, you have the ability to enjoy your patio all year round. It is important to make the most of the time that you spend on the patio, and there is a great deal of potential! We can restore this area for you to create a beautiful, uplifting, and functional space that will increase your property value and improve your quality of life.
Now is the best time to remodel your pool brick pavers.
Your pool is the centerpiece of your backyard, and the area can be a fantastic place to entertain guests and enjoy the swimming season with your family. However, if you are barely getting by with a pool deck that is drab, outdated, and potentially dangerous, action is required. We can restore your brick pavers to their original condition.
Premium Products, Premier Reliability
We only use products that are environmentally safe and premium quality, and we even let you choose between matte, satin or high gloss finish. We want your home and surrounding areas to look beautiful and last longer.
Protect & Beautify
When Sunrise Roofing & Cleaning seals your pool areas, you'll be protected from mold, mildew, algae, efflorescence and fungus, and a host of weather-related issues. Not only does having your brick pavers sealed add protection, but it will really bring your pool area back to life with vibrant color.
At Sunrise Roofing & Cleaning, we want to help you avoid those problems all around your house by professionally protecting and restoring life to your brick pavers for your driveways, pool decks, and any walkway areas. Our sealing process can generally be done in a day if we don't have to strip previous brick paver sealing, so we can get in and out before we impact your busy life.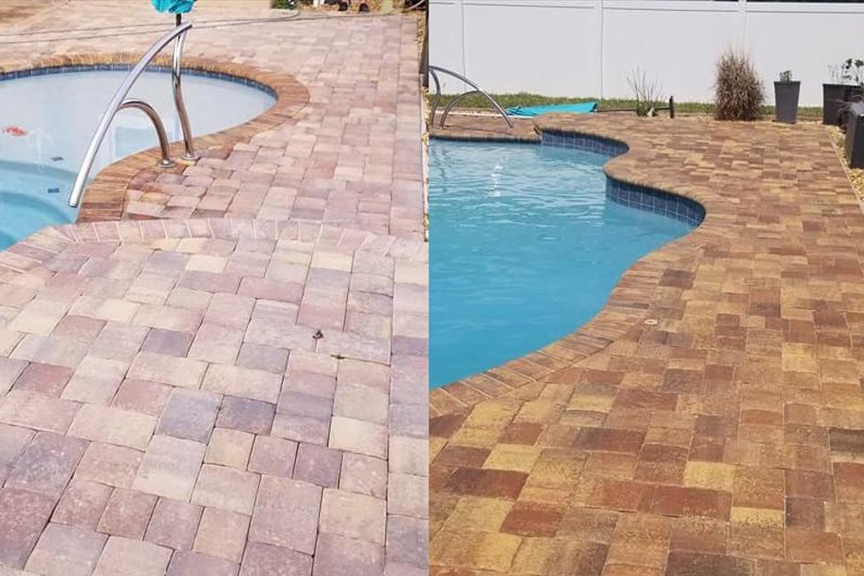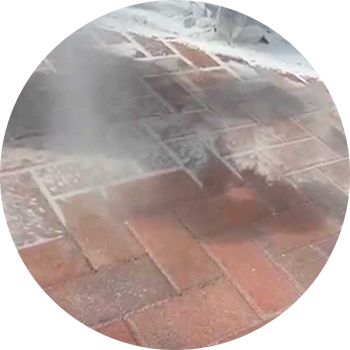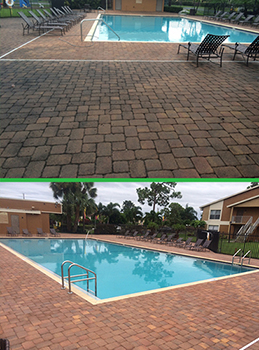 Stripping of brick paver sealant is needed when a homeowner hires a paver installer company that uses a cheap or low-quality paver sealant. Often times we find ourselves removing solvent/oil/xylene/acrylic-based paver sealants. These are all different names for the same product. How could 1 product have multiple names? A solvent simply means "to dissolve". A solvent is a very toxic paver sealer often composed of Xylene for the brick paver application. It is an acrylic type of sealant. Oftentimes, acrylics are referred to as oils. Water-based sealers like Silacast are eco-friendly and highly recommended. Sunrise Roofing & Cleaning is proud to be an authorized dealer of Silacast by Deco Products, Inc.
All hope is not completely lost. You have 2 options: live with ugly pavers and let it wear off in about 8-10 years. Or give us a call for a free estimate to have the failed paver sealer stripped off completely and re-sealed the right way.
NEVER STRIP AGAIN – ASK ABOUT OUR LIFETIME WARRANTY – NEVER GET WHITE PAVERS AGAIN
Rust on brick pavers is more commonly found where properties have yard irrigation from a well system. Irrigation rust is an ugly and frustrating problem. Rust is also commonly found where fertilizers have been sprayed on a lawn and overspray was left to sit on concrete or brick pavers. In most fertilizers, you will find iron. Iron is very healthy for grass and plants, however, when it is left to sit on brick paver surfaces, rust begins to grow and soak into the pores of the brick pavers. Also, we find rust stains on brick paver pool decks quite often. Usually, the culprit is metal patio furniture or a planter.
Other companies do pressure cleaning we make the difference.
We believe in delivering a higher standard!
Why choose Sunrise Roofing & Cleaning?
Over 20 Years of Experience
Sunrise Roofing & Cleaning was founded in 2013.
Trusted for years when it comes to protecting your roof and house
We stand behind our service with one of the longest warranties around.
Need Pressure Washing or Soft Roof Washing?
See how we can work with you