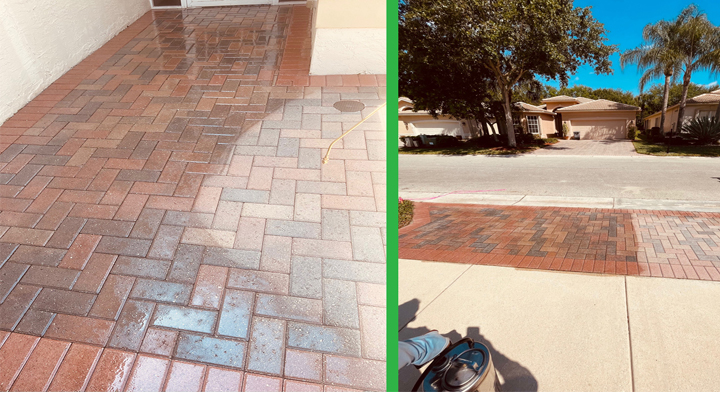 When you have brick pavers, you should seal them regularly to keep them looking great for a long time. There are several methods you can use to seal brick pavers, including using a pail or pump sprayer. Water-based sealers can be applied with an ordinary garden pump, while solvent-based sealers require a heavy-duty metal pump sprayer. The right type of sealer will be able to protect your bricks while also enhancing their natural beauty. Call Sunrise Roofing & Cleaning today if you have any questions about brick paver sealing or cleaning. 561-513-7833
Before applying a sealant, clean the brick pavers thoroughly and repair any uneven areas. You should finish the job the same day as you started it, to avoid any fading. Make sure you seal the entire surface and make sure the coating is even. After applying the sealant, let the pavers dry completely, and if there are any puddles or stains, you should use a leaf blower to clean up the excess sand.
To seal brick pavers yourself, follow the steps below. First, use a pressure washer to clean the area thoroughly. This will remove dirt, mildew, sand joints, weeds, and any debris that might have gotten stuck in the pavers. This will help you apply the sealant properly and keep the brick pavers looking their best. You will also need a strong-duty hose. If you're not experienced in doing this, hire a professional to help you.
After you have cleaned your brick pavers, you should then apply a coat of sealant. This sealant will protect your pavers from harmful bacteria and fungi that can grow in the gaps between the pavers. When you're finished, you should rope off the area to allow the sealant to cure completely. And don't forget to wear your safety glasses when cleaning your brick pavers! If you're not sure, you can also ask your installer if there are any drainage problems.
The best sealant for brick pavers is the one that is waterproof. While the sealant can withstand light rains, it can still be damaged by unexpected rains. After applying a sealant, you should check the durability of your pavers. The sealant should not be used on cracked or broken bricks. Depending on the type of paving, residential paving can take as little as three days to dry.
A water-based sealer is the best choice for brick pavers that are laid with joint sand between them. The product can penetrate the brick pavers better, which is why a water-based sealant is the best option for these types of pavers. While this process may be time-consuming, it will ensure that your brick pavers look great for years to come. It is also important to avoid weeds that grow between your brick pavers. If you do not choose a sealant, they will eventually grow. Call Sunrise Roofing & Cleaning today if you have any questions about brick paver sealing or cleaning. 561-513-7833
Brick Paver Sealing
Pressure Washing Services Near Me
Soft Wash Roof Cleaning Near Me